After the FBI's raid of Donald Trump's Mar-a-Lago estate, Republican support for the 45th president hit a record high.
Politico reported that a record high of 58 percent of Republican voters now say they would vote for Trump in a 2024 presidential primary.
71 percent now say they want Trump to run again in 2024.
Trump's 2024 Primary Support Reaches New Heights After FBI Raid – Politico/Morning Consult poll:

Donald Trump 58%
Ron DeSantis 16%
Mike Pence 8%
Nikki Haley 2%
Tim Scott 1%

Record-high 71% of GOP voters say that Trump should run for president in 2024https://t.co/zdlcpFxjLi pic.twitter.com/3Loq1DtNVA

— InteractivePolls (@IAPolls2022) August 11, 2022
Share of GOP voters who said they would vote Trump if the 2024 Republican primary were held today by Politico & Morning Consult

Jan 2021: 42%
Oct 2021: 47%
July 2022: 54%
Aug 2022: 58% – Highest on record pic.twitter.com/OjY9lpRwbA

— InteractivePolls (@IAPolls2022) August 12, 2022
Following the FBI raid at Mar-a-Lago, a record-high 71% of GOP voters say that former President Donald Trump should run for president in 2024

Morning Consult / Politico https://t.co/zdlcpFxjLi

— InteractivePolls (@IAPolls2022) August 12, 2022
From Morning Consult:
Trump's 2024 standing after the FBI raid

In the Aug. 10 survey, 58% of Republican voters said they would support Trump if the 2024 Republican presidential primary were today, the highest on record since his 2020 loss. The share of support is up from 54% in July and 53% in June amid the high-profile congressional Jan. 6 hearings.
Trump's improvement has come to the detriment of Florida Gov. Ron DeSantis, whose 2024 support has slumped 5 percentage points since late July, to 16%.
Similarly, a record-high 71% of GOP voters say that Trump should run for president in 2024.

How the FBI's activity is being framed

The FBI's activity on Monday in Palm Beach — acting on a warrant reportedly related to a probe involving Trump's handling of top secret documents — provided a dramatic picture of the unprecedented examination of a former president by federal, state and local investigators on the civil and criminal front.

Three in 4 voters said they had seen, read or heard at least something about the FBI's raid by the time of the survey, with little variation by political affiliation. In turn, most voters (54%) aligned with reporting that the search was related to mishandling of classified information, compared with 32% who thought it was related to Jan. 6 and 14% who said it was "something else."

In a statement, Trump called the FBI's search an act of "political persecution" and a "Witch Hunt" designed to harm the political movement he leads. While much of the Republican electorate buys that charge, the message does not appear to have legs with the broader public.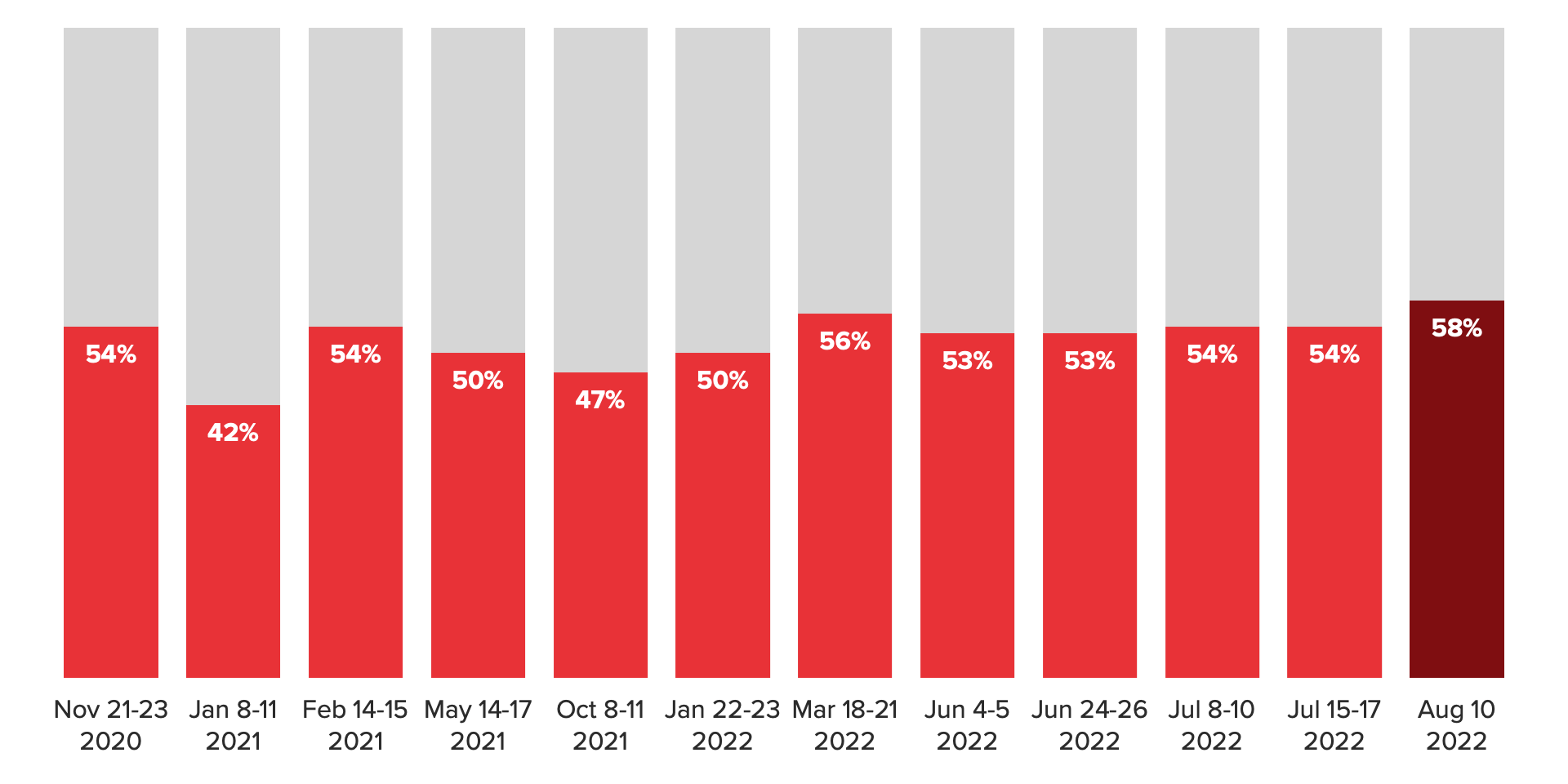 Breitbart added:
Trump's previous high for the question about voting for him in a 2024 primary was 56 percent, in March of 2022. The last time this poll was taken, last month, Trump earned 54 percent support.

Support for Gov. Ron DeSantis (R-FL) has dropped five points since July, from 21 percent to just 16 percent.

When it comes to all voters, only 49 percent believe the warrant was issued because evidence existed of a crime. That's a pretty pathetic number, a huge lack of trust in a major institution for a move as serious as raiding a former president's private residence.

Additionally, 39 percent believe (correctly) that the raid was committed out of a partisan political motivation, while 13 percent had no opinion.